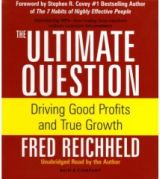 As a marketer, you cannot escape the vast number of books and articles that highlight Net Promoter ® and the power of it. Even the likes of Joseph Jaffe with this recent podcast that highlighted the authors of "Answering the Ultimate Question," Satmetrix's Richard Owen and Doctor Laura Brooks. Now,  if talking about Net Promoter ®, I must pay tribute to Fred Reichheld, a Bain Fellow and founder of the loyalty practice. If you were wondering who owns the trademark, Fred Reichheld, Satmetrix and Bain co-own the trademark to Net Promoter ®.
Now the debate: helpful or hype?
ServiceUntitled, a blog that I highly recommend, has a great book report on The Ultimate Question: Driving Good Profits and True Growth by Fred Reichheld. The report recommends the book but cautions that the last half is redundant. Overall there are merits of net promoter but based on the fact it is not a new concept — asking people whether they would recommend your company/product/service to friend or family member.
And thanks to the folk's at Walker, here is a compilation of academic reviews of the concept:
The first independent empirical work addressing Net Promoter was a Harvard Business Review letter to the editor by Neil Morgan and Lopo Rego in April 2004. The authors used secondary resources to conclude:

revenue growth (the financial metric used by Reichheld to prove the value of NPS) is not the best financial metric to predict business success
the predictive ability of customer satisfaction/loyalty metrics varies across industry context
no one customer metric predicts different financial metrics equally well.

Brand Strategy published a second independent article about Net Promoter in January 2006 by three London School of Economics economists. Based on an advocacy study of four UK consumer sectors – retail banking, mobile phones, cars, and supermarkets – the authors found NPS and negative word-of-mouth behavior were significant drivers of revenue growth (positive and negative correlations, respectively) but that customer satisfaction and positive word-of-mouth behavior were not significant drivers of future growth.
The next empirical test of the Net Promoter concept was published in the September/October 2006 issue of Marketing Sciences and was the first article published in a peer-reviewed academic journal. Identifying six measures of customer satisfaction/loyalty, the authors found that an index of customer satisfaction (loyalty) and a customer satisfaction top-two box score are the best predictors of six popular measures of financial performance followed by the likelihood to repurchase and a measure of customer complaints. NPS was not a significant predictor of any financial performance measure.
A forthcoming article in the Journal of Marketing (Keiningham, et al.) presents evidence questioning the link between NPS and business performance. Using two longitudinal datasets, the authors are unable to replicate Reichheld's assertion regarding the strong link between NPS and business performance.

The entire review can be seen here at the Walker website.
In a CustomerSat Insights interview with Professor Neil A. Morgan, Kelley School of Business, Indiana University, Neil explains the predictive qualities.
Most loyalty models assume that attitudinal loyalty (likelihood-of-repurchase, willingness-to-recommend) translates into behavioral loyalty (actual repurchase, actual recommendations) that translates into supplier's business performance (sales, margins, stock value, etc.) But our results show that these linkages are weaker than satisfaction for predicting performance. – Neil Morgan
The Bottom Line:
Net Promoter ® is a measure to look and monitor but not the only measure. Ultimately, companies will need a lot more information to actually take action and continuously improve. The concepts of loyalty and satisfaction are complex just like the human behaviors and attitudes we are trying to understand.